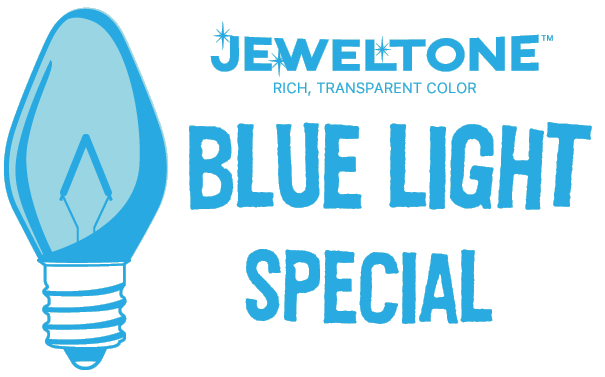 All discounted bulbs are guaranteed functional, but sold as-is. These sales are final. Thank you!
Here at Tru-Tone, we are always working towards improving our products. Last season, some of those efforts resulted in our blue Jeweltone bulbs having a darker, Cobalt hue. While some customers appreciate the hue, we've reverted to our original, more retro blue hue for all Jeweltone style bulbs going forward. If you'd like to obtain any of the cobalt Jeweltone bulbs, now is your opportunity...while supplies last! Choose from boxes of only blue bulbs as well as the classic mix of all 5 Jeweltone colors, which includes the cobalt version.
Receive BIG SAVINGS on blemished blue Jeweltone bulbs! We have a small supply of C7 size blue Jeweltone bulbs that were packed before the coating was thoroughly cured, resulting in some surface blemished including small areas with no color. In most applications, these blemishes are unlikely to be noticed, and are otherwise high quality bulbs. They didn't meet our high standards, so we're offering them to you now at 50% off!